Sweden Invades U.S.:
Cowboy Disguises Conceal Intent of World Domination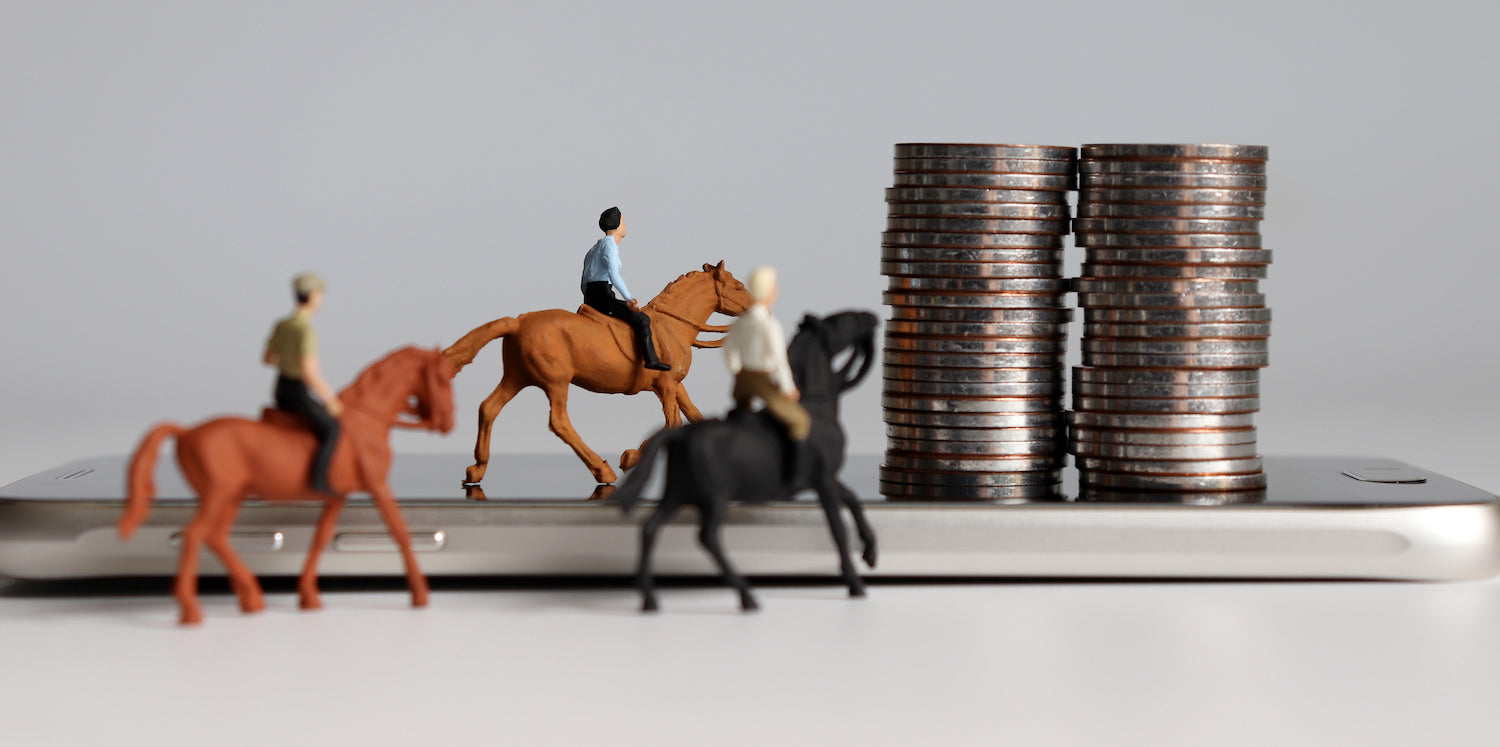 Did you see the invasion on Superbowl Sunday? In 30 seconds flat the Swedes had taken over. By some estimates they are 200,000 strong, in the U.S. alone. Though in disguise as cowboys on quarter-size horses, their intent was clear. World domination. Period.
World domination of e-commerce (and other) payments, that is.
Who's behind this invasion? Get ready for it . . . Klarna Bank AB of Stockholm, Sweden. Exsqueeze me? Get ready to say that strange Swedish word "klarna" a lot.
Let's roll this back a bit. In a never-before-seen, attention-grabbing 30-second Super Bowl tv spot, four cutesy cowgirls on quarter-sized ponies, led by actress and comedian, Maya Rudolph, clop-clop-clop into an old Western town singing Nancy Sinatra's "These Boots Are Made for Walkin,'" a chart topper from the 1960s.
Their mission is to purchase a fabulous pair of no-doubt-expensive pink cowboy boots with silver soles and heels and, what are those, golden cherubs on the boot tips?
At the end of this 5-million-dollar spot (you read that right, +/- $5 million for 30 seconds) the four horsemen (late spoiler alert, all the cowgirls are clones of Rudolph) exit the dusty town, but not before declaring that each one will pay 25%, a quarter, of the cost of the boots. A quarter, get it?
Why should leaders in e-commerce retail care about Klarna and this Swedish innovation invasion? Because it represents a revolutionary way for consumers to pay for goods over time. In this case, four payments. And, by the way, there is zero interest or fee to the consumer to use this service.
You might have seen the concept as "Pay in 30" or "Buy Now, Pay Later," etc. To be sure, Klarna has competitors in Affirm, Afterpay, niche-player Sezzle, and even Venmo is experimenting. [Pssst, Venmo is a service of PayPal. Ahem, that little company Facebook is also in the hunt here.]
They each offer slightly different approaches, but this is not layaway. Most create what amounts to a short-term loan, but unless you are a late payer, zero cost to the consumer.
Hmmm, many citizens around the world are deeply worried about a pandemic, whole sectors of the economy are suffering (think travel, live events, hospitality, restaurants), and, in many places, something as simple as "window shopping at the mall" is no longer a thing. 
Though some of these payment providers are available in traditional brick and mortar stores, the real play now for Klarna and the rest is online commerce. In a non-scientific poll (a bunch of us at the office) we found that 66% of people are still using "retail therapy" to deal with COVID-induced isolation. They just have taken it online.
[By the way, 72% of this same sample group said wine consumption had increased in their household during the same time period. Just sayin'.]
Whoops! Left out a key point here, perhaps the most important one for the consumer. You get your purchase NOW, not later after you have paid the mini-loan back. Struggling economically, mentally, just need a treat? You can start wearing those leather Chelsea boots muy pronto! [In chestnut brown, size 9, please.]
Don't forget, these platforms have both a consumer and merchant market. These companies make their money by charging merchant fees in the same way as your credit card companies. Very strategically they are building out so consumers can use the Klarna app to shop on their own catalog platform, not just directly at e-commerce sites.
Whether it's Klarna or another provider, it might be time to go a little Nordic and look into these payment providers that are proven to boost sales and have traction with younger buyers. Fashion shoppers are a notorious challenge to gain and keep. Klarna and the others are changing that.
Several sources note that these payment platforms are sitting on piles of data on consumer spending that is just beginning to be tapped and monetized. Maybe by your company?
This "buy now, pay later" (BNPL) model is on fire in traditional and online stores. One of Klarna's tag lines is "Smooth shopping." An alternative they use is visionary: "Klarna everywhere."
Klarna raised another $650 million last year, boosting their valuation to $10.65 billion (that's U.S. dollars, not krona!)
Personally, here at the office we are learning Swedish. Just in case.
Skol!
Please note: Text Connects has deep experience integrating almost all of these BNPL payment providers for our clients. We take special pride in showing our clients' customers exactly what to expect when checking out. All part of what we call "Putting the digital customer experience first."
Want to see the Klarna tv spot? Watch it here.